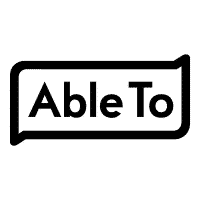 Raleigh, NC – September 3, 2017
AbleTo, Inc., the leading provider of technology-enabled behavioral health solutions proven to improve patient outcomes and lower healthcare costs, recently announced that it has closed $36.6 million in financing, led by Bain Capital Ventures and also includes strategic investor Aetna.
All of AbleTo's existing investors, including .406 Ventures, Sandbox Industries, HLM Venture Partners, and Horizon Healthcare Services, Inc. also participated in the round.
C0MPLÉX1 congratulates AbleTo on raising the money for Series D funding, We are proud of our client for doing such meaningful work in the lives of patients.
About AbleTo, Inc.
AbleTo, Inc. is a market leader in providing technology-enabled behavioral health care. AbleTo has been treating patients for six years, and improves patient outcomes and lowers costs by providing treatment that integrates behavioral and medical health care. AbleTo's structured therapy programs strengthen medical recovery and self-care among members with chronic or complex clinical needs.