According to a recent Q1 2016 Digital Marketing Report by Merkle, Google was a major driver of smartphone usage in the first quarter, driving 95 percent of US smartphone paid search clicks.
Most notable, however, is the fact that Google is far ahead of its search engine competition, Bing and Yahoo, when it comes to driving and converting mobile search traffic. Combine this with a recent article that explains how Google is making signifiant strides with in-store attribution, and you've got a real powerhouse to contend with.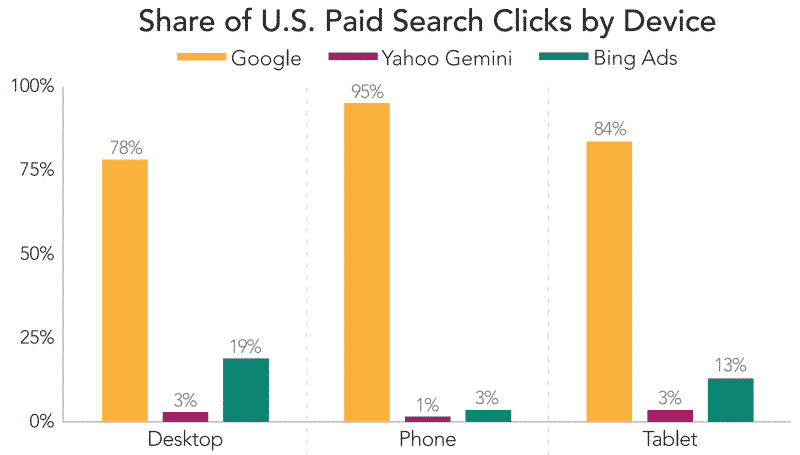 Continued Growth for Mobile
According to Merkle, smartphone click shares rose to 39 percent in Q1 of 2016 compared to 33 percent in Q4 of 2015. It should also be no surprise that Google, once again, continues to dominate search. The one change that Google made to paid search in Q1 was the removal of text ads from the right sidebar. Additionally, Google seems to be showing more attention to Product Listing Ads (PLAs) as they are beginning to show up more.
The Importance of SOBO
Searches that Result in Offline Purchases (SOBO) are an important part of the mobile growth that is occurring – particularly where closing the online-offline marketing gap is concerned. Search Engine Land columnist, Mona Elesseily, points out a couple of reasons why we might want to pay attention to the importance of closing this gap:
#1 – SOBO conversions significantly outnumber online conversions.
Though many of us use our smartphones as a shopping companion (i.e. checking and comparing prices on items while in the store, researching products, etc.), most retail sales (95% to be exact) still happen at brick and mortar locations. Because this type of marketing data is difficult to capture, it cannot be factored into optimization efforts.
#2 – Offline tracking is labor-intensive.
Elesseily explains that current offline tracking methods require that the offline data be uploaded consistently to Google. The actual process is extremely time consuming and frustrating for companies, which often leads many companies to simply bypass tracking offline marketing initiatives altogether.
Evidence of Better In-Store Attribution
Elesseily sees three things that Google is doing, which is proving that we're on the right path to closing the online-offline marketing gap:
#1 – Google Local Inventory Ads
Highlights how far the nearest store is from you
Shows specific store inventory
Implications:
Helps us understand in-store-attribution/understanding what audiences are more likely to convert in-store
Should improve as it's able to get more granular and optimize in-store conversions
#2 – Google Now In-Store Cards
Appears when a shopper is near a store
Displays useful information such as sales, closing hours, loyalty card data and more
Implications:
Takes into consideration location history, internet activity (like clicks on ads) and actual visits to a store
Also considers data that's stored in Google accounts
#3 – Google In-Store Conversions
Allows advertisers to measure the number of shoppers that visit a physical store after seeing a search ad.
Uses a combination of WiFi, GPS and specialized store maps to track visits (basically footsteps) to and within a store
Implications:
First step in Google attempting to tie specific purchases at checkout to people who have previously viewed ads