Customer Service Representative and Project Management | Las Condes, Santiago - Chile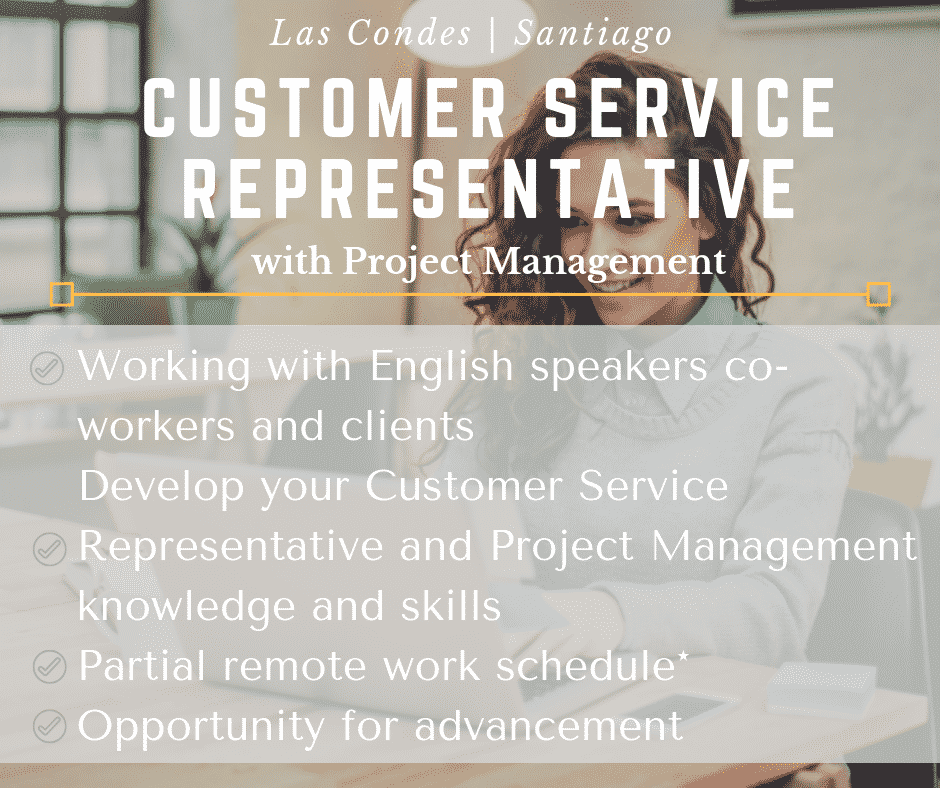 Job Purpose:
Providing customer service to existing and potential clients and administrative support in the daily operations of the company.
Duties:
*Project management, communication and documentation.
*Scheduling and making arrangements for meetings and events
* Administrative duties such as answering phone, general emails.
* Customer Service, receiving customer emails and communication.
* Project Management - communication with company employees and subcontractors.
* Providing documentation of communications
* Providing customer service to potential and established clients via phone, eMail and live chat.
* Relaying instructions to team members for major changes requested to clients' websites, overseeing progress and reporting.
* Assisting with the building of client websites, including: creating new webpages, communicating and assigning tasks to programmers, updating webpages as necessary when receiving feedback from clients and managing the project's progression.
Skills:
*Administrative Writing Skills.
*Excellent Written & Verbal Communication skills.
*Organization.
*Ability to multi-task and solve complex problems.
*Ability to Interpret & present technical information and analyze data & information.
*Decision Making.
*Ability to keep others informed of changes and new developments as they happen.
*Advanced proficiency with MS Word, Excel, Powerpoint.
*General computer skills.
*Experience in project management.
*Preferred: Familiarity with Magento, Shopify, or WordPress
Qualifications:
Bachelor's or Associate's Degree is most desirable.
High school diploma is required.
*Microsoft Excel
*Microsoft Word
*Basic WordPress
*Basic Magento
*Intermediate Understanding of Web Development
Hours:
Position will be 40 hours per week depending on workload. Work hours will be in the time frame from 6am-6pm, Monday thru Friday Eastern Time US. Some weekend support will be required, especially for urgent issues.
Note: This is an hourly, contractor position and you would be getting paid from a company in the U.S., meaning that you are responsible for handling Chilean taxes and residency requirements on your own.
About The Company:
A web development and programming company with offices in North Raleigh, NC, USA and Las Condes, Santiago, Chile. Has been in business for over 10 years. Provides web development services to small and medium sized businesses in the local area and worldwide.