Magento eCommerce Websites
At C0MPLÉX1, we are constantly keeping our eyes on the latest developments in technology, search engines, and search engine optimization. And for business owners of eCommerce web sites, C0MPLÉX1 offers custom web development for Magento eCommerce websites. Hire a qualified Magento programmer, and find out more about what C0MPLÉX1 can do to help take your eCommerce business to the next level. Call or click today: 919-926-8733.
A Brief History of Magento
Launched back in March of 2008, Magento is an open source eCommerce web application that was originally developed by a company named Varien, which later became known as Magento Inc.
In 2010, a mobile version of Magento was released, which allowed businesses to create native mobile storefront applications. In 2011, big news hit when eBay announced its 49 percent ownership investment in Magento.
Today, Magento is owned by eBay Inc., and is used by over 150,000 businesses and leading brand names, making it a global leader in the field of eCommerce technology.
Established companies and startups can benefit from having C0MPLÉX1 set up and help them manage their eCommerce business. Simply fill out the contact form to begin. Also, take a look below at some of the features and reasons why Magento has won over so many business owners for eCommerce.
Hiring a Magento Developer for Website Design
When talking about Magento, we have to also mention web design since one enhances the other. There are three divisions to website design: the design, the content, and the programming. Below, we go through each of these briefly.
DESIGN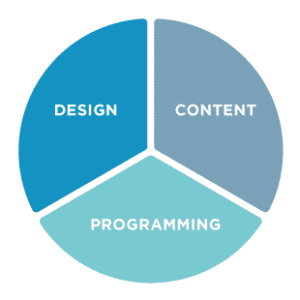 The design of your website is the most important aspect of your overall website. As they say, you don't get a second chance at a first impression; and in the world of online marketing - your web design is it. It's the part of your website that has the potential to turn visitors into leads and leads into sales. Conversely, a poorly designed website can have devastating effects on not only sales but overall credibility.
At least 1/3 to 1/2 of your overall project cost will be devoted to web design, and this includes but is not limited to: fonts, type treatments, graphical elements, calls to action, etc.
CONTENT
Content is King. It's what people really come to your website for. Though usually in text form, content may range from text to images, to video, to audio. Quality content communicates in a clear and concise way to your target audience, informing, educating and convincing them of the superiority or high quality of your products and/or services over other competitors. It is a great way for you to acquire new customers, clients, and referrals.
PROGRAMMING
Programming is what is done behind the scenes. It's the technical aspect to your website that allows you to create customized, unique functions that other competitors don't have. Besides this, a great programmer can help bring your web design and other content-related ideas to life. Security features, custom functionality, lead generation databases, tracking, and more are just some of the key things that programming covers. Having a quality, professional, experienced programmer in your corner is crucial to the success of your website and all of the elements you wish to incorporate.
Is Magento good for ecommerce?
Even the best programmer is only as good as the platform they're working with. And, fortunately, Magento is an excellent choice for eCommerce. This platform offers a very useful administrative panel that puts you in full control of your online sales. Additionally, it is open source, highly secure, completely customizable, and suitable for businesses of all sizes and types. All of these features, as well as the ones listed below, make it an excellent choice.
Features of the Magento eCommerce Platform
Flexible product display options
Mobile templates
Transaction options
Multi-store/Multi-site functionality
User accounts and loyalty programs
Product categorization and filtering
Discount and promotion rules
Use of Object-Oriented Programming (OOP) and EAV model, allowing for large data storage
Why is Magento so popular?
Magento is a very popular option and, based upon the features above, it's easy to see why. The platform is user-friendly, even for those who are new to eCommerce. Plus, with our team on your side, you'll be able to make the most of its many features. From grouping products to incorporating effective SEO strategies, Magento is the clear choice for businesses that want to broaden their reach and increase their profits.
Magento 2.0 - Leading the Way in eCommerce
Nearly a decade later, the latest iteration of Magento, Magento 2.0, is a total overhaul of the original platform. Offering enhanced performance and scalability, as well as other features, Magento 2.0 is designed to empower brands, retailers, and businesses across B2C and B2B industries to deliver engaging omnichannel shopping experiences fast and at-cost.
Hire a Professional Magento Programmer
While Magento 2.0 offers a wealth of possibilities for businesses, the migration process from Magento 1.0 to Magento 2.0 isn't straightforward. It's really like moving to a new platform, and it requires updating/rewriting every extension/customization. This is why it is important to hire an experienced Magento programmer.
Support is expected to continue for those currently operating under Magento 1.0 for the next several years, which relieves you of having to rush into an upgrade. However, if you're already considering a website overhaul for your eCommerce business/brand, it is strongly recommended that you consider the many benefits that the Magento 2.0 platform has to offer. Regardless of what you decide, C0MPLÉX1 has the qualified, experienced Magento developers to help you take your website to the next level.
Some of the core functions included in the latest version of Magento include:
Optimized indexing to deliver faster, full catalog reindexing for 1 million products. According to InternetRetailer.com, Magento customers previously have had to completely reindex their site when adding products, changing prices, or updating images.
Improved caching performance to support greater traffic, or customers.
Streamlined checkout flow to improve page load times. Customers can now browse retailers websites 20%-35% faster and immediately access newly added products.
Improved tax recommendation engine to provide greater accuracy when calculating tax rates. The new version supports global merchants with more than 3,000 tax rate zones.
Let C0MPLÉX1 Grow Your eCommerce Business with a Magento website
C0MPLÉX1 is already a proven leader in pay-per-click (PPC) advertising and web optimization; and we  provide expert programming and customization options for your eCommerce business. We are also a fully autonomous system and own and distribute our own IP addresses. As such, it's easier than ever to acquire a reliable dedicated IP address for your Magento eCommerce site. The following are just some of the reasons why having an eCommerce business is advantageous in today's web market:
eCommerce allows you to expand your geographic reach.
While having a physical storefront location has its benefits, having an expertly drawn up, fully functional eCommerce site puts the entire world at your fingertips. Particularly as technology trends point to more mobile devices being used for online shopping, making sure that you have a stellar eCommerce site will be key to your business success.
eCommerce can improve your search engine visibility.
How often do you think customers wind up following a link trail from search engines back to an eCommerce site? Answer: more than you'd think! Build your brand awareness and improve your visibility when you have a fully functional eCommerce business.
Kill your overhead costs with eCommerce.
Perhaps one of the most noted points about having an eCommerce site is the fact that it allows you to operate at a lower cost than you would if you had a storefront business. As a result, you can then turn these lowered costs into discounts that your customers can enjoy. For instance, PPC, social media, and reduced personnel (due to online checkout features) are all very real, very tangible bonuses of having an eCommerce site.
eCommerce Sites, Built by C0MPLÉX1 Magento Web Developers, Open 24/7
The consumers of today are not the consumers of yesterday. Today, shopping for a product doesn't always mean getting into your car and driving to a physical location. Neither does it mean pushing a shopping cart down an aisle or standing in line at a checkout counter. No, today, customers are in tune with technology.
Today, we have online shopping carts and eCommerce sites that are open 24/7/365. This means more opportunity for you to attract, retain and convert onlookers into buyers. It means that you can provide more options to your customers through a high functioning, attractive eCommerce site.
If you are considering your options regarding whether or not to set up an eCommerce site, give C0MPLÉX1 a call today at 919-926-8733. C0MPLÉX1 will help you expand your eCommerce business.