We've all done it before – you're out shopping at the mall, and you step into a store to "browse." You look around the store for a little while, and then you leave without buying anything. In your mind, there may have been an opportunity to purchase something you wanted, but perhaps it wasn't the right time.
Now imagine you happen to see a sales banner from the store you visited as you walk around the mall. This banner politely reminds you of the business you just left and the offers you passed up. Because all of these things are now in your mind, you decide to return and make that purchase.
Remarketing is similar.
What is Remarketing?
In the digital advertising world, remarketing (also referred to as retargeting) helps you reach people who have visited your website or used your app. Previous visitors or users can see your ads as they browse websites that are part of the Google Display Network, or as they search for terms related to your products or services on Google [source].
In this way, remarketing is a simple way to reconnect with people who have previously interacted with your business in some way, such as via your website or a mobile app. These people obviously have some interest in your brand, so it just makes sense to position your ads in front of them. You're subtly reminding them that they like your brand and that they may want to buy something from you. Plus, you're keeping your brand prominent in their minds, which can lead to future purchases and referrals.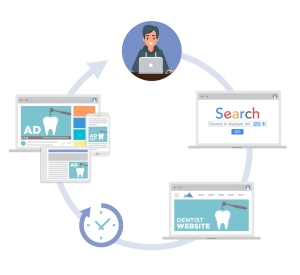 How Remarketing Works in Your Favor
Remarketing will almost always work in your favor no matter how big or small your business is. Why? It allows you to tailor digital ad campaigns that are customized to a certain audience. Thus, you may see:
Better conversion rates

Improved ROI

Cost effective branding

More decisive targeting

Reduced spending

Repetitive Business Exposure

Well-timed targeting that allows you to reach customers before they make a similar purchase from another company

Targeted marketing based on past purchases or past activity, like adding an item to a shopping cart but not making a purchase

The ability to reach a wider range of people

The ability to quickly and easily create dynamic, appealing ads

The ability to easily track and view campaign statistics at any time
Not only can you enjoy all of these benefits by choosing to engage in remarketing, more specifically Google Ads remarketing options, but you will also be able to choose from a wide range of advertising types and choices.
There's always standard remarketing, which allows you to show ads to past visitors. However, you can also engage in dynamic remarketing, which shows people the specific products and/or services they viewed and considered purchasing in the past.
You can even create marketing that appears to people when they search similar terms on Google. In this way, you can remind them that you have what they need.
There's even video remarketing, which works for people who have viewed your videos on Youtube in the past, and customer list remarketing, which allows you to interact with and advertise to customers that have provided you with contact information. Via these methods, you can rest assured that customers will never forget your brand or its products.
And, while Google reigns supreme in the retargeting world, there are certainly a slew of other retargeting platforms to choose from. Given such a wide variety of choices and the fact that some retargeting campaigns can be quite complex in nature, it may be in your best interest to have a professional create and manage your remarketing campaigns.
Turn 1-Time Visitors into Lifelong Customers
At C0MPLÉX1, we can help you turn one-time visitors into lifelong customers with professionally managed remarketing campaigns.
We can help your business re-target those visitors after they leave so that they see your ads during the buying cycle.
Don't let an opportunity to convert a customer slip through the cracks. We have the tools, experience, and expertise to help turn those window shoppers into paying customers. Contact us today to find out more.
See Also:
Understanding Google Ads | Competitive SEO | Technical SEO | SEO is High Tech Work, .