Hire A Shopify Developer In Orlando, FL
A hosted e-commerce provider such as Shopify is perfect for furthering the growth of your business beyond a storefront. In order for your development projects to succeed to your desires, the help of a skilled Shopify developer is necessary.
C0MPLÉX1's certified and trustworthy Shopify developers offer services to Orlando, FL businesses. Our team of certified experts and many years of experience, are fully equipped to address the specific characteristics of your business to create the best possible shopping experience suited for your customers.
Why Shopify?
There are many e-commerce website platforms out there, all of them with their own specific features and functionalities. However, for small businesses looking to grow further, Shopify's combined e-commerce and CMS solution, complete with end to end setup services, is a great option.
This fully functional, easy to use, e-commerce platform supports thousands of businesses around the world. We use a myriad of customization tools, unique functionality, and features such as shopping cart, universal login, SEO and SEM optimization, server management and hosting, and more.
With our Shopify developer, you'll be fully equipped with everything you need to take your business to the top of its field. With customizable options and unique functionality, our platform will create an online store for you that exceeds every expectation.
The key aspects of Shopify development
When handling Shopify development for Orlando FL businesses, the team that you decide to work with is crucial. They will handle of all the specifics, transforming your ideas into an actual, fully functioning online store.
C0MPLÉX1's professional knowledge and experience makes for a team of the most skilled Shopify developers in Orlando, FL who look at every aspect of your Shopify development project. Said developers will be able to look at every detail necessary, putting their focus into three main divisions necessary for creating a successful e-commerce that stands out amongst the crowd
Design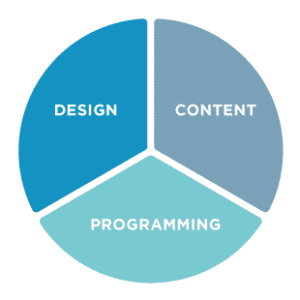 As an online business, creating a good first impression is mandatory, so good web design cannot be overlooked. By covering all details, from fonts and type work to graphical elements and calls to action, design becomes one of the main aspects to consider. No less than a third of the overall projects costs will be directed towards design.
Content
Content is the reason people visit your website. Though usually in text form, content can also include images, video, audio and everything necessary to communicate the gist of your business and what it can provide to your target audience. This marks the difference in a customer choosing you over your competitors.
Programming
Programming deals with everything that you don't directly see. This technical aspect of your website allows you to create customized, unique functions. A great programmer will bring your web design and content-related ideas to life, while handling all of the important security features, custom functionality and more, so that your Shopify development project covers all of the bases necessary to make your online store work to the top of its capacity.
Hire a certified Shopify developer in Orlando FL
Once you've chosen Shopify as your e-commerce tool to work with, you'll need to find someone capable of covering every detail and getting the most out of this platform by taking advantage of everything it has to offer to take your business to the next level.
By choosing C0MPLÉX1, you'll be choosing the best team of Shopify developers that Orlando, FL has to offer.  
Whether you're only making small changes to an already existing e-commerce or looking for complete customization, the right Shopify developer will know exactly how to address your project to make sure your goals are met and expectations are exceeded.
Contact C0MPLÉX1 today to find out more about how we can take your Shopify development project to the next level.