When you hire an Internet marketing agency to do web marketing for your dental practice, they should be aware of what level of discretion to use and how to present your dental practice in the most favorable light to current customers and prospects.
Social networking advertising, when done correctly, can be an asset to most dental practices, especially when it is part of a more comprehensive online marketing plan. Below, we take a look at an example of what NOT to do when it comes to Facebook advertising for dental practices.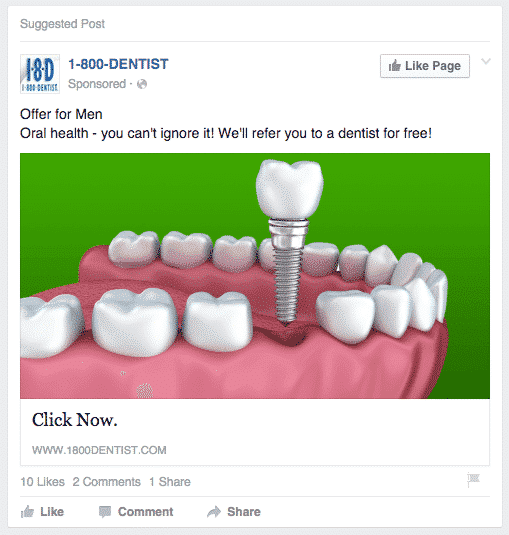 Social Networking for Dentists: Why It Works, Why It Doesn't Work
It is estimated that 75 percent of US adults experience some degree of dental fear, ranging from mild to severe. This can be caused by a poor experience, hearing about someone else's poor dental experience, mass media, or a general lack of control and/or helplessness when in the dentist chair. It is no wonder that many people have some apprehension about seeing a dentist!
The above ad only acts to reinforce this notion of odontophobia by using an image of a Dental Implant that is about to be drilled into the gum line. This image is barely acceptable for any type of targeting and/or advertising in which you are trying to present dentists in a favorable light. Instead, the image likely scares away prospective clients who don't know what a dental implant is, and it may even induce a sense of trepidation among those who are aware about dental implants and who, normally, don't have an issue with seeing a dentist. We would NOT recommend it.
At C0MPLÉX1, we have helped dental practices create successful social networking advertising to reach their consumers. We take the time to get to know your dental practice. More importantly, we have experience working with clients in the dental industry and are sensitive to the messaging that needs to go into social networking advertising to produce the best results.
Dental Practices Can Increase Reach with Facebook Ads
Facebook Boosted Posts are a relatively inexpensive way to create an impact for dental web marketing. You can choose your budget, spending as little or as much as you want. You also have the flexibility to choose how long you want to boost your post. Facebook boosted posts are automatically boosted for one full day. However, you can select up to 7 days.
Facebook ads and boosted posts are relatively simple to set up, and the ads offer you the ability to target specific demographic groups based on criteria such as: interest, age, location, income, etc. Because of this, your dental practice is better able to reach those who have interests and behaviors that are consistent with your ideal type of patient.
As a busy owner of a dental practice, there is often little time in the day left to successfully manage the details of an online marketing campaign. At C0MPLÉX1, we are experts in Social media management and all other aspects of online marketing. We'll work with you to make sure that your overall marketing goals are aligned with your Facebook Advertising.

What Makes a Social Networking Ad Campaign Successful?
There are different aspects of a social networking ad campaign. The following are four key areas to focus on when creating Facebook ads for your dental practice:
#1 – Planning
In the planning phase, you determine what the goal(s) of your Facebook Advertisement(s) will be. Example: You want to create Facebook ads that focus on sedation dentistry to help acquire new sedation dentistry clients.
#2 – Budget
Facebook is flexible when it comes to budgets. You determine how much to spend!
#3 – Testing
If it is your first time running a Facebook ad for your dental practice, we may recommend doing some A/B testing to see which ad does better under a certain set of criteria.
#4 – Optimization
Once you have an idea of your Facebook advertising goals, budget, and messaging, it is time to optimize your ads by creating a unique story that people will not only want to click on; they'll want to share it.
For additional information about Facebook advertising for dental practices, contact C0MPLÉX1 today by calling (919) 926-8733, or fill out our simple form below.