Google offers all kinds of services and options that businesses can use to be more successful. One such service is Google Ads, which allows people to create ads and then "compete" auction-style for their chance to have their ads appear when relevant searches are performed.
So, how do you win these auctions and actually have your ads displayed? Well, the best way is to follow these simple google ads tips!
Tip #1: Use Branded Keywords
First things first, when possible, have your Google Ads campaign include branded terms. You'll find it very easy to make relevant ads for your keywords. Plus, when people search for your products or services, your ads are sure to show up, enabling them to target the people most likely to make a purchase.
However, for best results, use branded keywords alongside simpler, non-branded terms to have more of an impact. That way, people who search for the non-branded term may still be shown your ad. Plus, you may improve your Google ads quality score via this method, which helps your account as a whole.
Tip #2: Inform Google of Negative Keywords
Your Google Ads account also allows you to include "negative keywords." These are basically keywords that you feel do not reflect your business and/or the type of traffic you'd like to attract.
If you run a very upscale restaurant, for example, you wouldn't want it to appear when people search "cheap food near me." You'd either get the wrong customers at your door or have your ad shown to people who are just going to click away from your site once they see your prices. But, problems like these can go away when you properly make use of the negative keyword feature.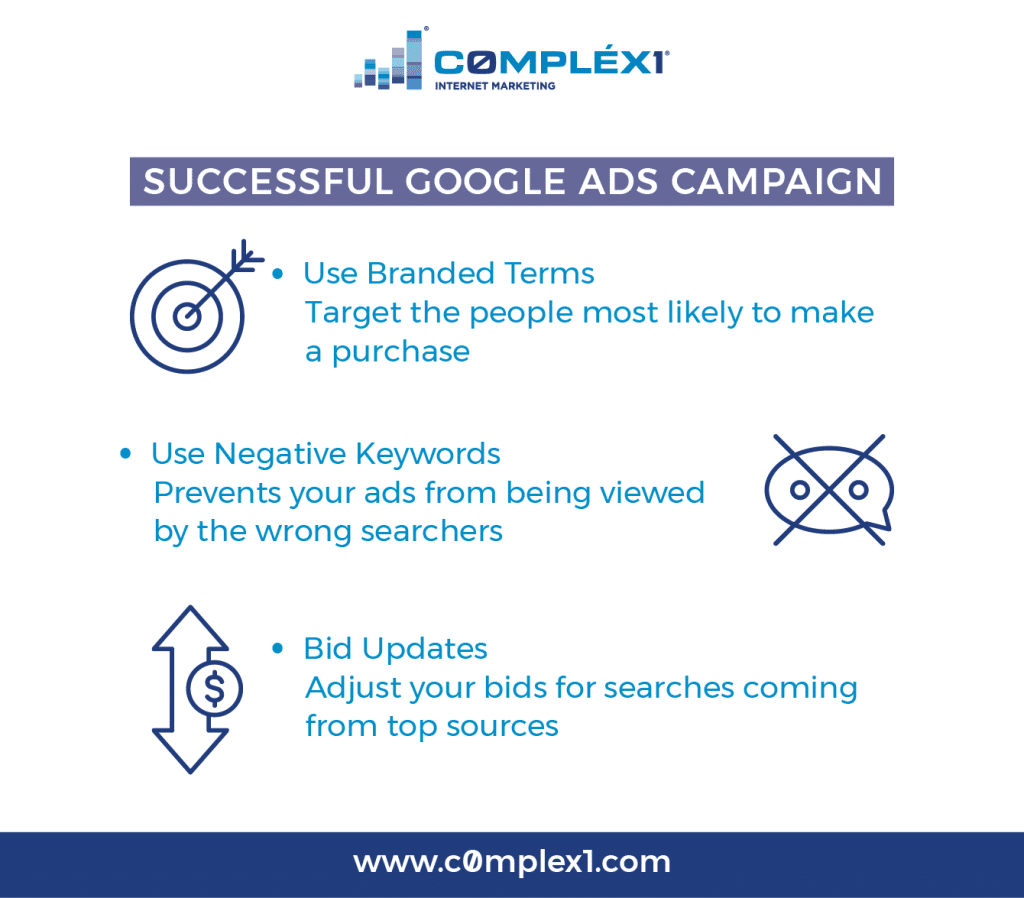 Tip #3: Update Your Bids
Finally, once you've been using Google Ads for a while, take a look to see where most of your traffic is coming from. When you notice a lot of searches are coming from a particular area, especially if those searches are leading to conversions, you can adjust your bids for searches coming from those specific locations in the future. That way, your ads are more likely to appear to people who are looking for products or services just like yours!
Also See:
Learn More
Would you like to learn more great tips that can help you be successful with Google Ads? Or, maybe you want professional assistance that can guide you through your entire Google Ads campaign. Here at C0MPLÉX1, we can provide help not only with Google Ads but with all of your online marketing and SEO needs. To learn more, reach out to us today!