Our Main Focus
Online marketing is different than in-house marketing. On the web, you have milliseconds to convince someone to stay on your site, let alone buy into the services that you are offering.
Many Raleigh, NC business owners make the mistake of focusing on traffic and numbers of visitors without taking into account the bigger picture. While traffic and visitors are important website metrics, it means very little if it isn't converting into sales. That's where Internet marketing and web design comes in.
At C0MPLÉX1, we offer customized web design services in Raleigh, NC as well as custom themes and templates to help businesses look and function at a high level. We are focused on building you a website that drives sales and helps you acquire NEW BUSINESS. A professionally laid out web design helps you accomplish this, and more.
Visually Stunning Web Designs for Your Raleigh Business
A stunning web design can create a visual impact that draws viewers into your website to find out more about your business. When coupled with easy-to-use navigation tools, graphics and text, web design plays a critical role in helping to market your business more effectively to your target audience, leading to increased visibility and profit margins. Having a customized web design lends credibility to your business as a brand.
At C0MPLÉX1, we help you plan, design, build and launch website designs that are visually appealing and relevant to your audience. From graphical elements to typeface, to images, content and videos, we look at the big picture with you and assist you in crafting a website that intrigues viewers to dive deeper.
The 3 Divisions Of Website Design
Perhaps one of the most underrated, overlooked things by Raleigh business owners is their website design and user interface. The look and feel of your website is crucial to conversion rates. Therefore, you should never underestimate the power of a solid web design. The following are three items that every great web design should have:
DESIGN
Your website design is the most critical part of your website. Not only is it the first thing that people see; it is what entices them to stay and learn more about your business, brand, and/or services you offer. The true hallmark of a brilliant website design is one which, ultimately, converts visitors into leads and leads into sales.
When considering website design, consider the fact that it usually accounts for 1/3 to 1/2 of a web-based project. There's more to a functional, user-friendly website than meets the eye. Website design encompasses all of the the following elements that a typical web user sees (and more):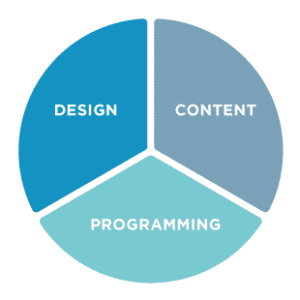 Fonts
Type Treatments
Colors
Matching Pantones
Graphical Elements
Calls To Action (CTAs)
CONTENT
The second division of website design is the actual content or "meat" of your business. This is why people ultimately visit your website: they are information seekers. Well-written, high quality content serves to satisfy the needs of your audience:
Quality Content Can Appear As:
Written Text: Written text can lend credibility to your business as a reputable source of researched information regarding a product, service, or idea/cause
Actual Products: If you operate an e-commerce site, product listings and descriptions can act as both a source of information as well as drive sales
Images/Graphics: Images and graphics can be displayed to help illustrate everything from facts, to figures, to written text - making it more visually appealing to certain readers
Video/Viral Content: Think of YouTube. Viral content can help to clearly illustrate a point, thought, or idea that may, otherwise, be difficult to convey via written text.
Typically, when speaking about "content," we are referring to the written text on a website. This is the actual verbiage that you use to reach out to your ideal customer. Quality web content should be clear and concise. It should explain your products and/or services, and it should clearly reflect and reinforce your business brand, helping you acquire new customers, clients, and referrals.
PROGRAMMING
The third division of website design is the programming. This is what you don't see. Programming covers the functionality of your website, and it has a direct impact on how your web design is implemented. Programming can be used to create custom functionality, helping to set you apart from your competitors.
Perhaps the most important aspect of programming is that it keeps your website operational and secure. One of the most catastrophic things to happen to a business is to have their website get hacked or to find out that their website is down. This is especially critical if the business normally experiences a high volume of traffic and/or relies on online sales. You cannot talk about safeguarding your business without talking about programming. More than this, you want to hire a Internet marketing company that uses experienced, professional programmers and developers. We also provide website management services and web hosting. This allows our programmers to work more efficiently without having to rely on third parties.
At C0MPLÉX1, we have great working relationships with some of the top programmers and developers that the industry has to offer, and we've been able to procure high caliber web designs and functionality for our clients as a direct result. From being able to accept secure payments to adding other, unique, one-of-a-kind elements to your online business, experienced programmers are a must.

Trust the Process
Great web design paired with top-notch programming can result in a powerhouse of a website. Equally important is the process behind building a website that stands apart from the competition.
At C0MPLÉX1, we've developed a proven 5-step process to every web design/web development project that we embark on. This process allows you, the client to be confident in both our level of expertise to deliver on expectations as well as create a predictable path of timeliness and quality within which you can trust.
Learn more about our website design & development process.
Connect with Customers: Choose a Web Design That Matters
In most cases, your website serves as the first stop for your prospects. Therefore, it is imperative to put your best foot forward. Choose a web design that demonstrates how professional and user-friendly your company, products, and/or services are.
That's one of the reasons you should choose C0MPLÉX1 for your Raleigh, NC web design needs. We are a local Internet marketing firm who understands how to create a customized web design that will effectively and correctly represent your company online.
5 Keys to Successful Raleigh Web Design
So, what are the keys to a successful web design?
User-Friendly
Users should be able to navigate through your website easily, locating the information they need quickly.
Visually Engaging
Capture the attention of potential clients, customers and other viewers with a visually stunning web design that draws them in. Choose from a variety of professional designs and displays, or allow us to help you customize a visually engaging web design from the ground up.
Professionally Crafted
A professionally crafted web design shows. At C0MPLÉX1, our service and commitment to our clients is reflected in beautifully designed, fully functional website designs that reflect both the brand as well as the credibility of the company it represents.
Reinforced, Consistent Messaging
Being consistent is part of any successful branding strategy. From your messaging to your graphics - everything serves to reinforce your brand/business's core objectives.
Malleable
The Internet is forever changing, shifting and reinventing itself. Choose a web design that will be able to evolve just as fast. Make changes to your web design easily and quickly. Adapt, change & grow.
Our Main Focus
Again, C0MPLÉX1 is focused on building you a website that drives sales and helps you acquire NEW BUSINESS. Beyond the visual appeal, our goal is to give you a solution that helps you generate leads, sales, revenue, and profits. A professionally laid out web design helps you accomplish this, and more.
At C0MPLÉX1, we live and work right here in Raleigh, and we can work with you face-to-face to get your website exactly the way you want it. Sit back and relax; and let us come to you! For more information about our web design options or other Internet marketing-related questions, give us a call today at 919-926-8733.